Music is a vital part of the human experience. When we teach music skills in our classroom, we are also building community, teaching social skills, and encouraging creativity. Music is everywhere in our environment, and music making is a behavior that is present in all cultures. So teaching your children music skills will in turn teach them to better understand their world. Even without a music background, these music activities are easy to learn and teach to your class. Maybe you will learn something new along side your students. Help your class experience the joys of communal music making while teaching them music theory with these action packed and engaging music activities!
#1 Musicians, Musicians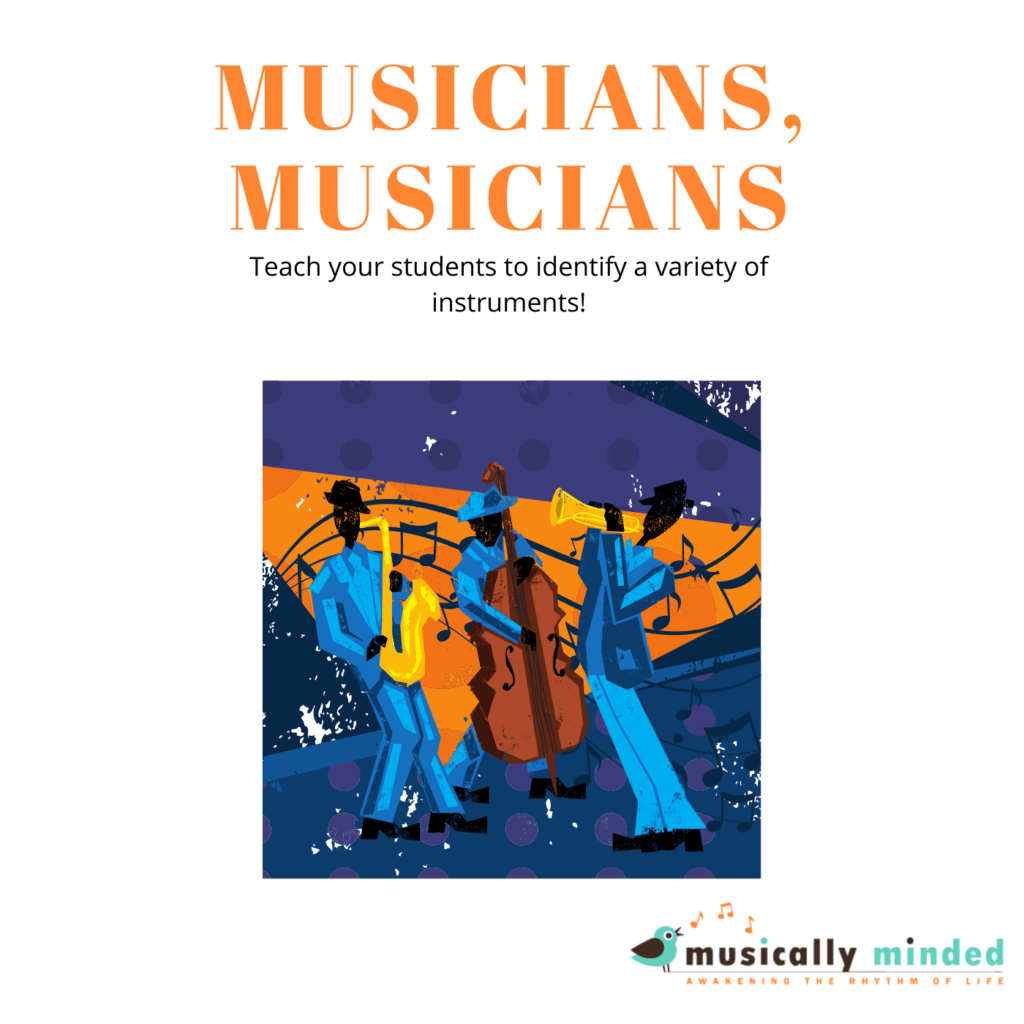 This listening activity is a great way to introduce your students to new instruments while helping them hone their listening skills. They will learn to identify different tones and timbres in music while they try to name each instrument. Listen to these musicians while they practice and see if you can name each of their instruments.
How to teach Musicians, Musicians:
Begin by printing out the visuals you receive when you download Musicians, Musicians. Cut out each instruments and laminate them to use on your felt board.
Show each instrument to your class and teach them the name of each one.
Begin the song and encourage your students to listen to each instrument and figure out which one it is.
#2 Sandblock Crescendo Decrescendo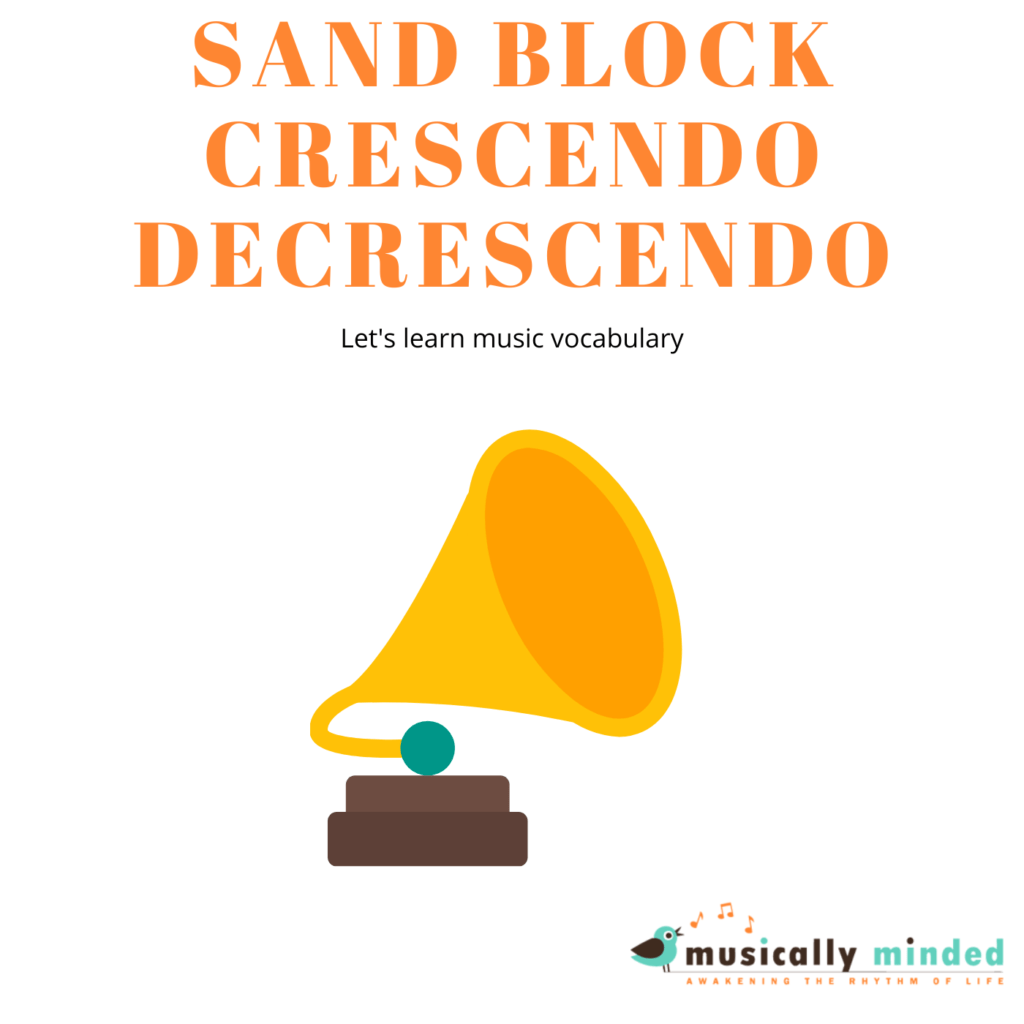 Crescendo and decrescendo are terms that refer to changing dynamics in music. A crescendo identifies music that starts off quiet and gets louder, while a decrescendo identifies music that starts off loud and gets quieter. Use this song to help your students learn to identify dynamic changes and copy these changes with their own instruments.
How to teach Sand block Crescendo Decrescendo:
Pass out sand blocks to each of your students and demonstrate how to play them quietly and loudly.
Explain the concepts of crescendo and decrescendo and let them practice on their sand blocks.
Next, just start the song and help your students follow the cues telling them to crescendo or decrescendo.
#3 Sing and Scat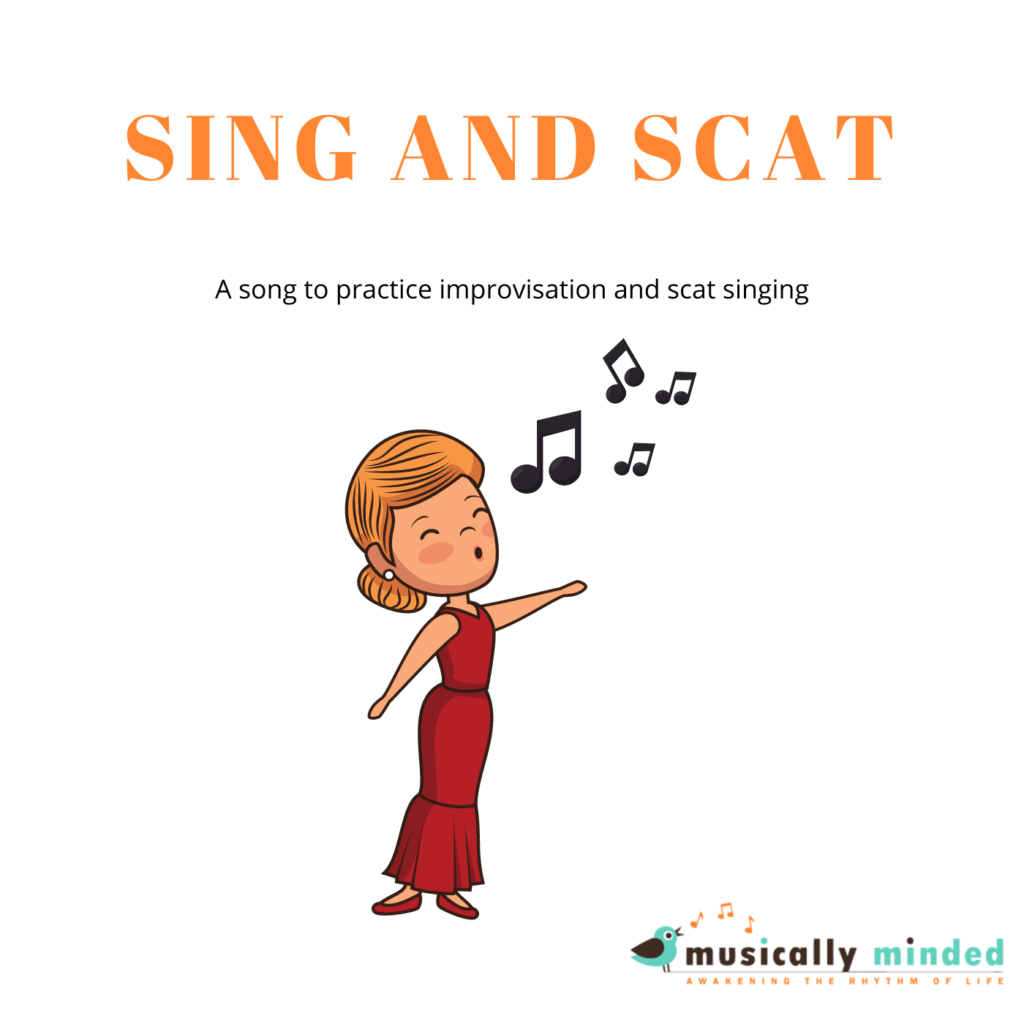 Scat singing is a type of improvisation done by singing nonsense syllables instead of words. This style of singing is popular in jazz and cabaret music. Try listening to songs with scat singing with your class before trying this activity so they have some context for scat singing. Your students will have a blast singing in this imaginative and fun new way.
How to teach Sing and Scat:
Explain scat singing to your class and give them a few examples. Encourage them to try coming up with their own improvisations as practice.
Begin the song and help your students sing along with the scat phrases.
#4 Beepin' Boppin'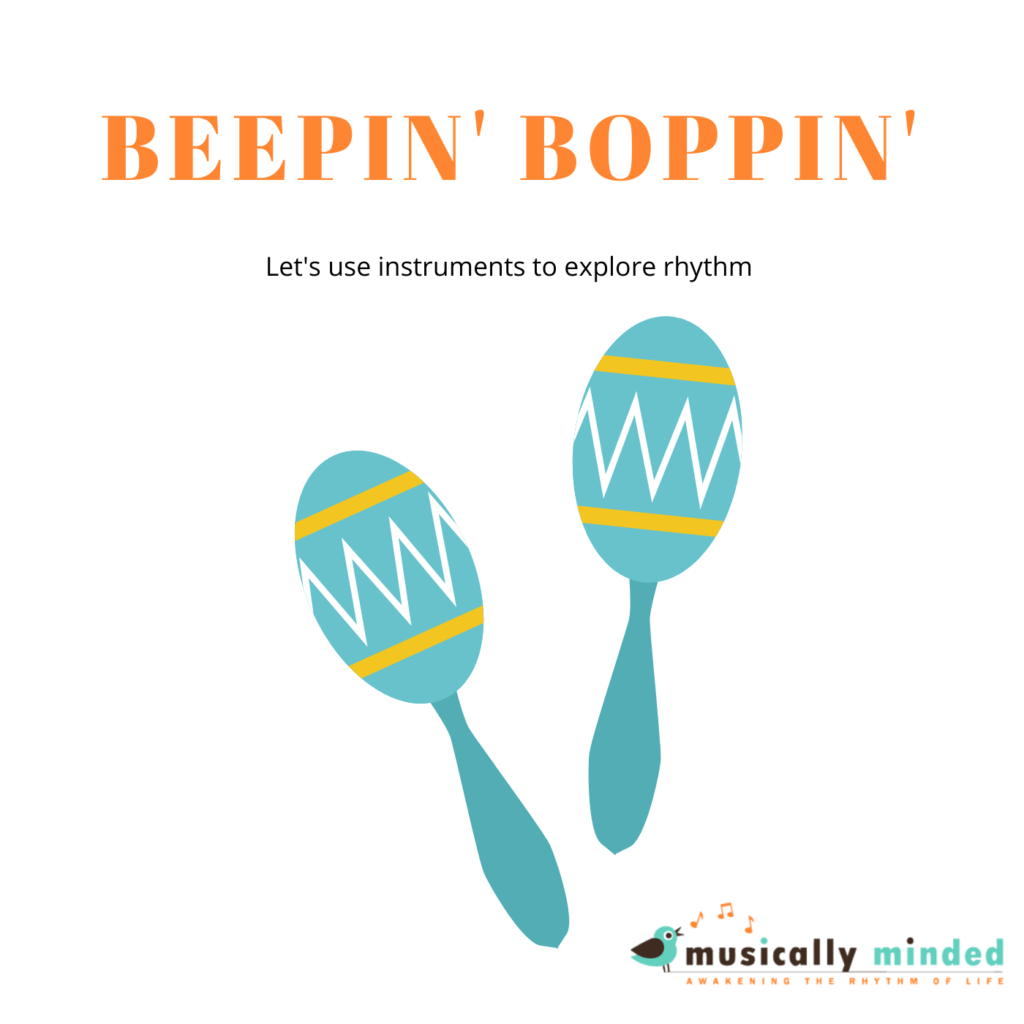 Beepin' Boppin' is a great rhythm exploration activity to play with your students. They will learn about syncopation and practice playing to this advanced beat. They will move and groove to the music while following along with musical cues teaching them to play their instruments in new ways!
How to teach Beepin' Boppin':
Pass out small rhythm instruments to your class and demonstrate how to play them.
With older students, explain the concept of syncopation, telling them that sometimes the beat isn't where we expect it to be.
Begin the song and help your students play to the syncopated beat and follow along with the cues in the song.
#5 Tap Tap Clickety Clack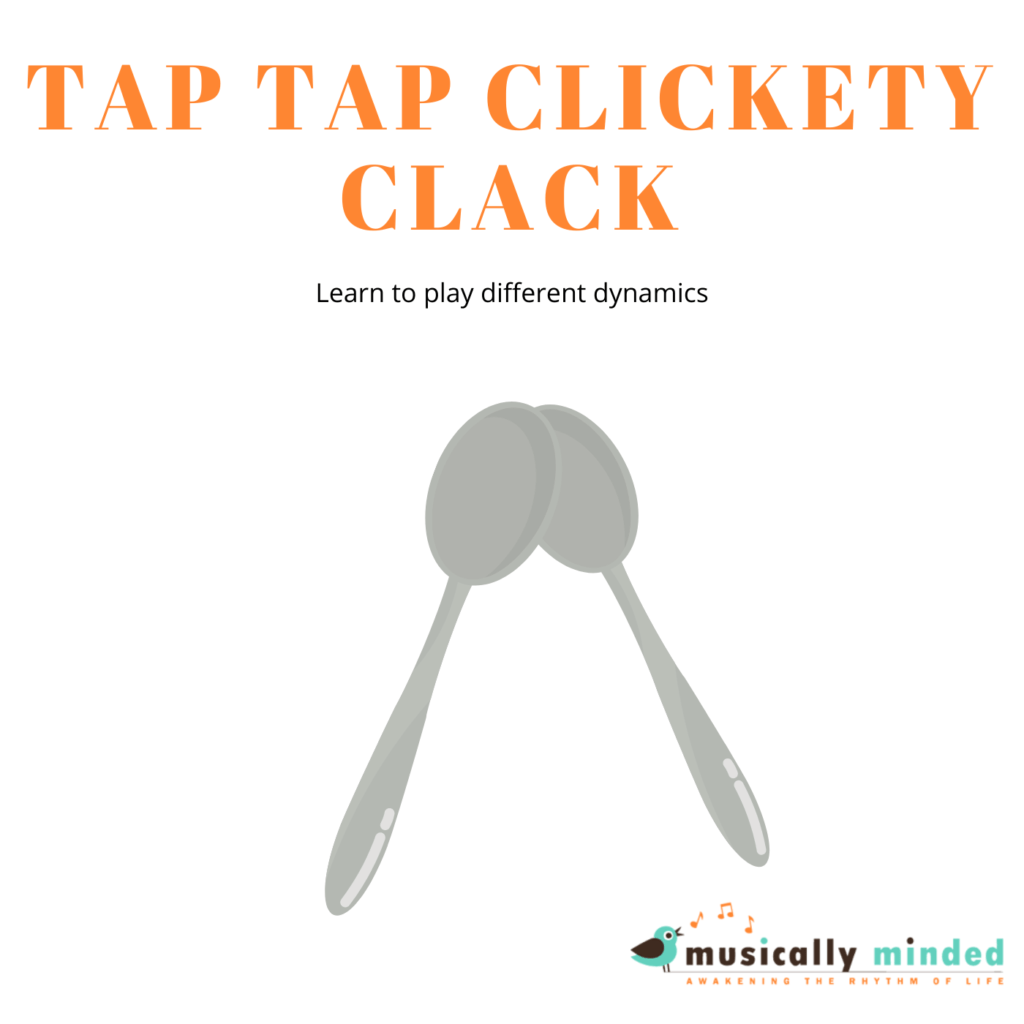 Tap Tap Clickety Clack is a great instrument exploration activity to try with students of all ages. Try this activity with musical spoons, unique rhythm instruments made with actual spoons! No musical spoons in your classroom? No problem! Try giving metal or plastic spoons to your students to tap together, or use any other small rhythm instrument. We hope you and your class have fun playing along with this silly rhythm activity!
How to teach Tap Tap Clickety Clack:
Pass out musical spoons or other small rhythm instruments to your class. Demonstrate how to play these instruments and give your students some time to practice and explore.
When you are ready, start the song and help your students follow along with the cues to play their instruments in different ways.
We know music theory isn't in everyone's wheel house, and it can be a confusing subject to learn on your own. That's why we create activities like these to teach music concepts in a fun and approachable way. Anyone can be successful in these activities, including the teachers using them! And Musically Minded is always here has a resource if you have any questions while teaching these activities. Give them a try and let us know how they go in your classroom!