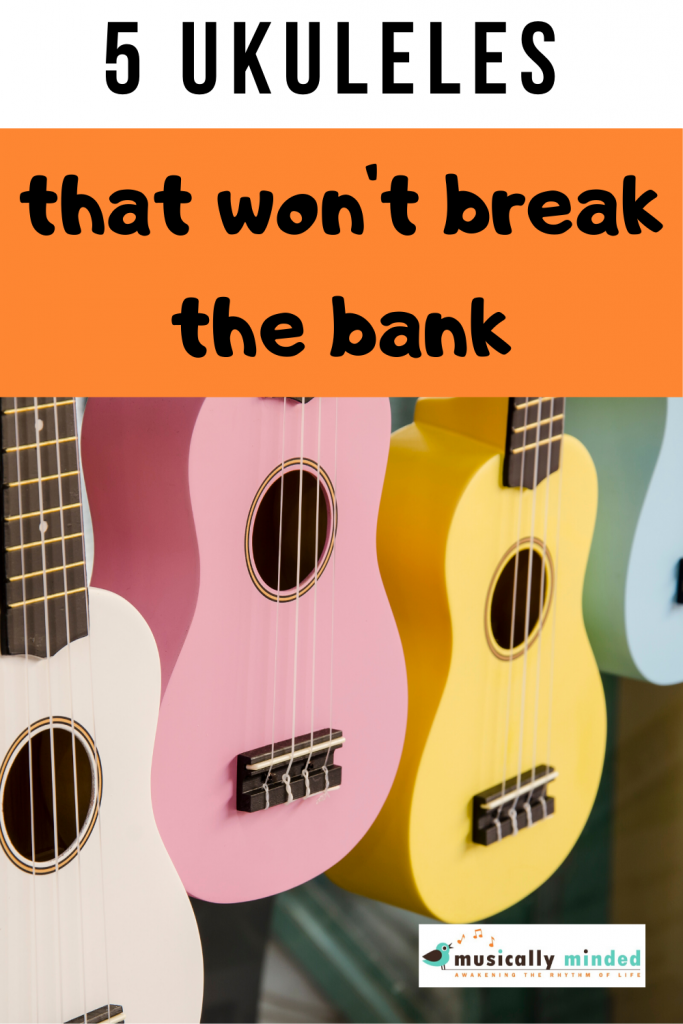 Ever thought of learning to play the ukulele? You might be saying, who me? I don't have a musical bone in my body!
Well guess what, learning to play an instrument is a skill, not a talent.
Still with me?
Now that we've got that hurdle out of the way, I'd love to help you get started by choosing an instrument I know you can learn quickly!
Let's face it, as adults we want immediate results without having to put in a ton of time practicing (or maybe that's just me!). That's why I recommend the ukulele.
If you have a ukulele in the back of your hall closet collecting dust and you are just waiting for "someday" to roll around to learn to play, there's no time like the present. Get it out, dust it off and see what kind of sounds you can get out of it.
If not, I've made a list of 5 really awesome ukuleles that range in price. Honestly, I'm surprised that some of these ukuleles make such an awesome sound and don't break the bank!
Let's Meet the Ukuleles
Before I give my recommendations, I want to talk a bit about the four standard sizes of ukuleles so you'l be sure to pick (no pun intended) the right size no matter which one you select.
Soprano: Known as the original ukulele, it is the smallest in the ukulele family and has a bright sound. It is great for playing chords and works well for smaller hands.
Concert: Because it is longer than a soprano ukulele, it produces a deeper and louder sound, but still sounds much like a soprano. This makes it a great size for most players.
Tenor: Tenor is the next step up from the concert in size. The scale for the tenor is about two inches longer, the neck is just a little wider, and overall it's a little heavier than the concert. The tenor size is the most popular among professional players, but is great for any skill or experience level. A tenor may be even more comfortable for those with larger hands and fingers than the concert size.
Baritone: The baritone is not only the largest in the ukulele family measuring 30" long, its tuning is the same as the highest four strings on the guitar. With that said, I'd recommend not going with this size if you are looking to play from traditional ukulele music because the chords will be different.
I'd recommend a soprano or concert size. If your hands are on the smaller side, go for the soprano. If your hands are on the larger side, go for a tenor. For me, the concert seems to be the perfect fit and here this from many ukulele players.
If time allows, go to a music store and try them out! It is a great way to feel what's right for you.
My 5 Favorite Ukuleles
(Note: All links are to Amazon and show Amazon Prime prices, but the ukuleles can be found on other sites or at your favorite local music store for around the same cost.)
Are you ready to learn to play the ukulele? Enroll in a 4 week online course and be playing in no time!